Communities for Lucid Dreamers
An important part of a dream practice is to share your experiences with others and to hear about their experiences. The act of sharing a dream forces us to organize it in a coherent way, and allows us to see it through other people's eyes. It often causes greater insight into the significance of the dream, and increases our understanding and interest in the dream world.
Other people's feedback is secondary, but can also help. Hearing about other peoples' dreams validates our own experiences and shows us what other people's dreams are like. We can learn new tips and techniques as well. It can be a very rewarding part of a dream practice.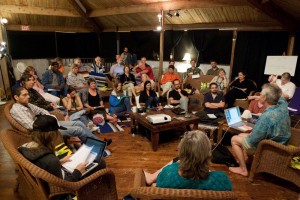 There are a few different types of communities you can join:
Dream Sharing Group
Lucid Dream Group
One Time Dream Workshop
Online Message Forum
Facebook Group
Below are some articles about dream communities:
---